31/08/2021 11:05 — 779
This is the first online training course organized by the University in collaboration with the Southern National Startup Advisory and Support Council on the Microsoft Teams platform. The course is taught by entrepreneurs and lecturers with many years of experience in the field of innovative start-up.
The opening ceremony was attended by Dr. Ngo Hong Diep – Vice Rector of the University, MS. Truong Thi Thuy Tien – Director of Center for Enterprise Cooperation and Entrepreneurship, Ms. Nguyen Thi Thuy - Standing Vice Chairman of the Southern National Startup Advisory and Support Council with the participation of entrepreneurs and more than 100 students.
Speaking at the opening ceremony, Dr. Ngo Hong Diep - Vice Rector of the University shared: "Start-up training for students is one of the important activities in the journey to support students to incubate ideas and projects of startup since they are still in university. I am also very honored and would like to thank the teachers and entrepreneurs in the Southern National Entrepreneurship Advisory and Support Council for accompanying the University during the past time. In the situation that the Covid epidemic is still complicated throughout the country, the University's training activities have also moved to online form for several months now. And especially, this startup training course is also the first course that the University cooperates with the Council. The course will equip and support the development of innovative ideas and a business model for a start-up project, helping students to have creative thinking and attitude, to solve problems flexibly and sensitively…". Dr. Ngo Hong Diep also sent his best wishes to teachers, entrepreneurs and their families to always be healthy, peaceful; businesses firmly overcome the covid pandemic and thrive in the future.
"Different from previous years, students would be able to participate in training courses and met face-to-face entrepreneurs in class. However, this year we have a very special first online training course. Though, our curriculum will be innovated by entrepreneurs by combining content from theory and practice with exciting experiential exercise" - Ms. Nguyen Thi Thuy - Standing Vice Chairwoman of the National Startup Advisory and Support Council discussed with trainees before officially entering the training course.
The course takes place in 6 sessions. Students are trained by experts in business awareness, innovation, and design thinking, thereby helping students to choose, build and develop business ideas that are suitable for themselves. Besides, entrepreneurs with rich experience have equipped knowledge about building business models when having ideas; knowledge and skills in planning marketing, finance and production,... for students.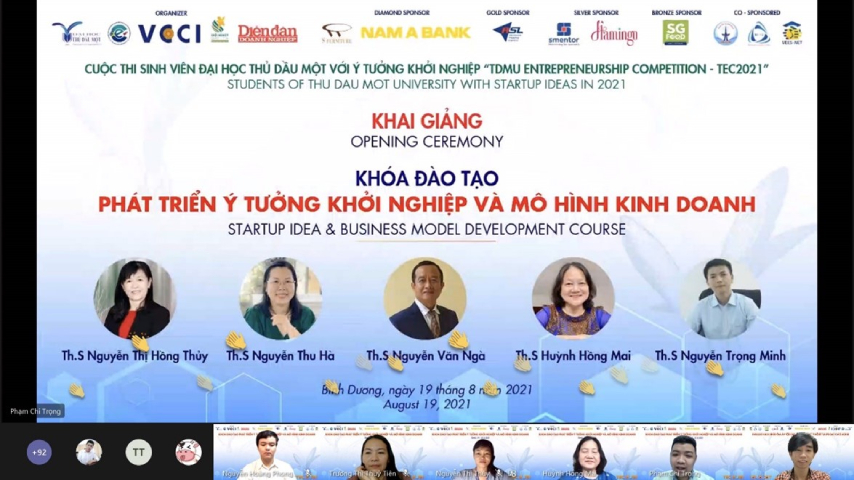 The first training course were held on the Microsoft Teams platform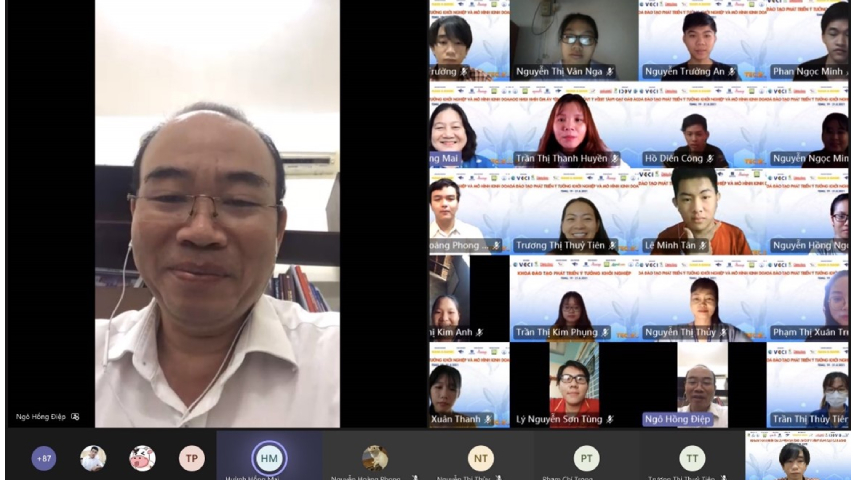 Dr. Ngo Hong Diep – Vice Rector of Thu Dau Mot University spoke at the opening ceremony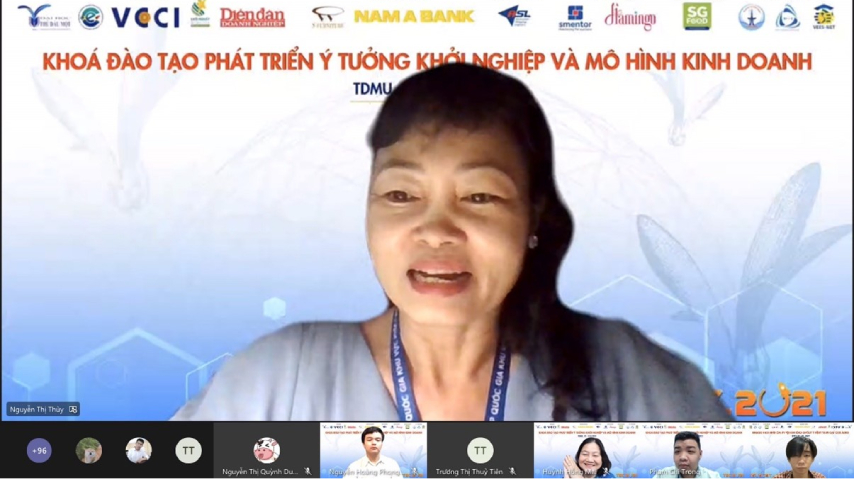 Ms. Nguyen Thi Thuy - Standing Vice Chairwoman of the National Startup Advisory and Support Council spoke at the opening of the training course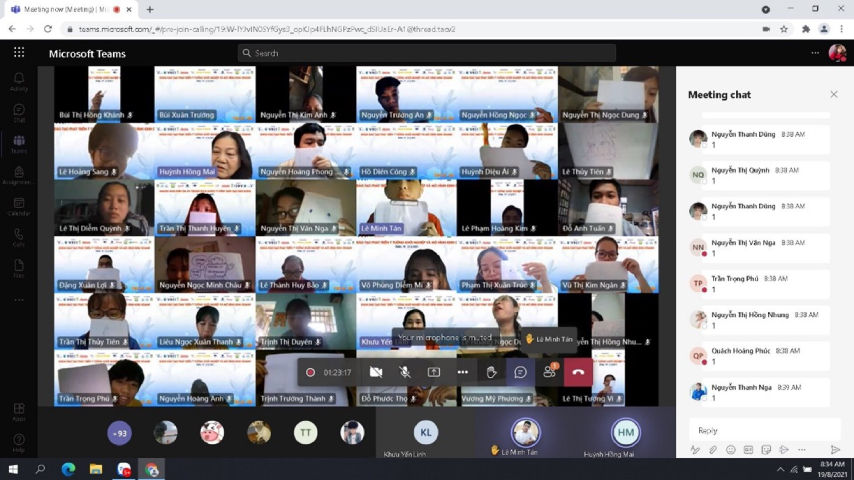 Despite participating online, the students still actively completed the course's assignments