03/08/2021 14:32 — 123
At the signing ceremony, representatives of the TDMU - Associate Prof. Dr. Hoang Trong Quyen - Vice Rector, Associate Prof. Dr. Nguyen Duc Loc - Director of the Institute for Strategic Development and representative of USM University - Prof. Asma Ismail - Principal, Prof. Badaruddin Mohamed - Director of the Institute for Sustainable Tourism Research, signed a strategic cooperation agreement. Accordingly, the two sides will focus on implementing the contents of training cooperation, student exchange, lecturers, scientific research, ..
In the framework of the signed contents, the leaders of the two units discussed in depth the feasible ways of cooperation between the two universities. The two sides agreed to take the project of tourism research and development in Binh Duong and Penang - Malaysia provinces as the focus of 06 specific action programs related to the two main areas of research and training as follows:
- In terms of training cooperation, the USM proposed to support the design and implementation of training programs for tourism masters in the form of linking training, parallel diploma; Initially prepare the lecturers to train tourism at TDMU. The two sides also agreed to cooperate in researching and designing the tourism training program for TDMU. In addition, the two universities will exchange lecturers and students, cooperate to improve tourism training programs and other sectors.
- The two sides exchange lecturers and researchers, forming a cross-country research network to support the research and international publication.
- The two sides connect with local authorities to formulate research projects, consult local tourism development policies; Forming a database of policy consultations and international publication.
- The two sides agreed to organize international conferences with the theme "Tourism, cultural heritage, and local community" at USM. After the seminar, USM will edit and publish books according to USM standards.
- USM agrees to support training course to improve research capacity for international publication based on ISI, Scopus standards ...
- The two parties agreed to organize short-term courses on professional training in tourism development and management for managers, specialists, tour guides in Binh Duong and neighboring provinces ...
The future activities of the two universities will create conditions for Thu Dau Mot University to have more opportunities to help students and lecturers learn and practice with a more professional international environment. The efficiency of the projects will be supplementary to the TDMU to effectively implement the mission of training quality human resources for Binh Duong and the Southern economic region.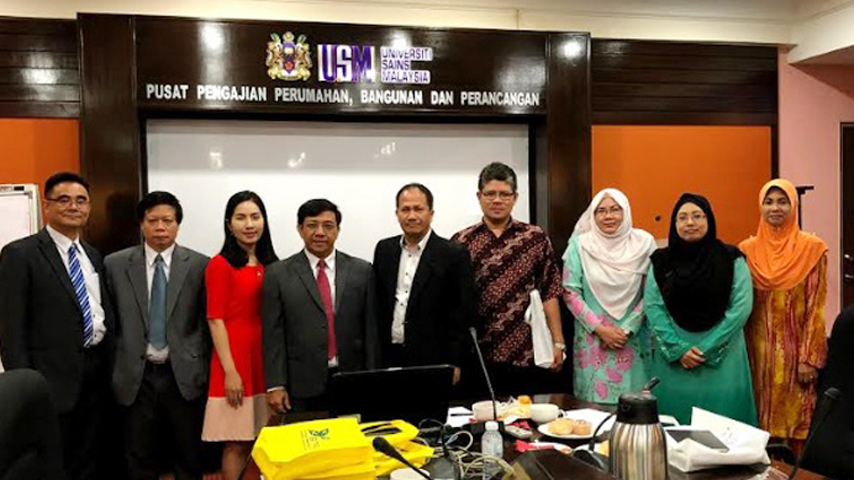 Leaders of the two universities at the signing ceremony