03/08/2021 14:08 — 134
In the morning of 03/04/2018, Assoc. Prof. Dr. Le Tuan Anh-Vice-Rector of Thu Dau Mot University welcomed and worked with Dr. Cathal Gurrin- Principal Investigator in charge of searching strategic partners for Dublin City University-DCU, Ireland, discussed the contents of the cooperation between the two Schools to proceed and sign of the MOU in June 2018.
The meeting with TDMU of Dr. Cathal Gurrin was in the working schedule with the units in Binh Duong Province about the Smart City deploying programs. At the meeting, the leader of the subdivisions such as the Faculty of Economics, Engineering-Technology, Social work, Administration-Law, Strategic development Institute corresponded with Dr. Cathal Gurrin about the need of training program development and the in-depth cooperation in the strong fields of DCU.
For Dr. Cathal Gurri, he said, after the visit to work with the School in November 2017, he and DCU worked out a plan about the direction of viable cooperation between the two Schools, which took the research on Smart City project as the center. Specifically, DCU and TDMU would work in two main areas on researching and training. On the collaborative research, DCU and TDMU could exchange research students, and guide the research students of the two Schools, ... On the collaborative training, the two Schools would exchange lecturers, students; cooperate to improve the training programs and provide scholarships for students to study in Ireland, ...
After the detailed exchange about the needs of the two Schools, with the contributions of the real opinions of direct training units, the two Schools agreed that some necessary contents would be performed immediately: Selecting postgraduate students of TDMU to study at DCU as DCU always had scholarships to support the School; Together with TDMU organized training courses for Provincial officers about the Smart city management; Starting-up training support to mount efficiently between training and reality, ...
For realize this content, the two sides would proceed to sign of the MOU on June 2018.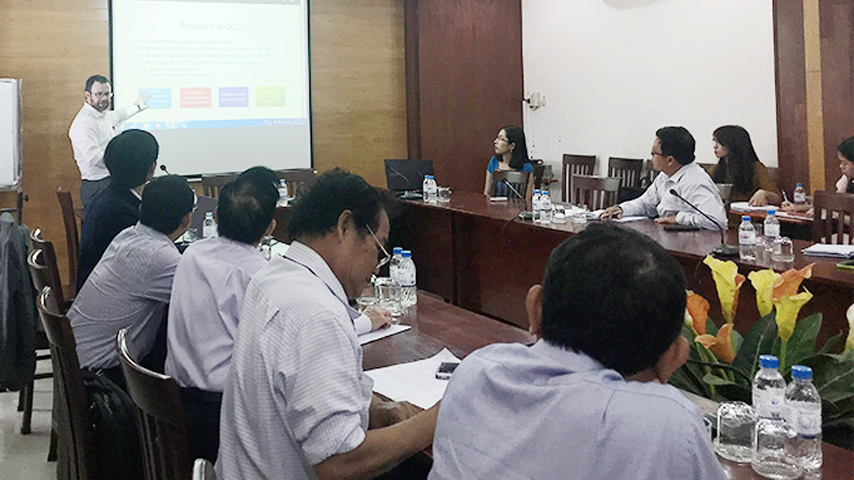 DCU was founded in 1983, and it was the youngest University in Ireland, ranked No.44 on the chart of the young universities in the world (under age 50). DCU was the European leader in the field of Scientific Data Research. The school currently has 200 training programs, more than 16,000 students. The school owns 30 companies, which support capably for the students who have just started their careers.